System Design and Equipment Capability
In every 60 – 90 second mist cycle, the Deer Guardian system creates a blanket of protecting mist around and throughout your pens.  For the system to be most effective, the flow of insecticide through each nozzle should be maximized – no matter how far it is from the pump.  Deer pen complexes are generally much larger than other facilities that have adopted misting, and this dramatic increase in size places a premium on both excellent flow design and equipment capability.  In both dimensions, Deer Guardian excels.
System Design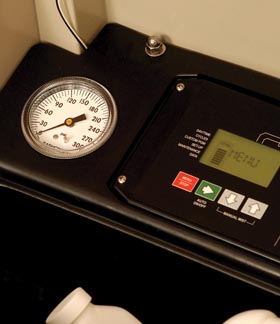 Over the years, Deer Guardian has amassed a wealth of real world experience and generated reams of fluid flow data.  And you get the benefit.  The engineers at Deer Guardian employ all these resources on each new system design, borrowing ideas from previous installations and using solutions to problems encountered before.
During the design process, you'll forward a dimensioned sketch of your pen complex.   Deer Guardian's design engineers will develop a color-coded rendering of the proposed nozzle circuit that will serve both as a basis for configuring the equipment order as well as a plan for the installation team.
The result is a system that predictably maximizes the size and effectiveness of the insecticide blanket with each and every mist cycle.
 Equipment Capability
Deer Guardian's equipment is especially engineered and assembled by MistAway Systems, the leading manufacturer of automated insect misting systems.  MistAway's equipment is specifically designed and built to support misting at this large scale and is a dramatic contrast to the cobbled together mishmash of parts from a supply house that you see in many horse barns.
In addition to being solid, weatherproof and virtually indestructible, Deer Guardian's equipment features unique attributes that are essential in deer misting:
Large Installation Capacity – utilizing a paired motor-pump combination that, with the appropriate system design, can drive 200 – 250 nozzles installed along 3000 – 3500 feet of fenced perimeter.
Reservoir Agitation – thorough, frequent mixing of the reservoir that provides for a consistent mist composition and enables the use of a much wider arsenal of insecticides requiring agitation that could otherwise not be used.
Zone Capability – allowing a single control unit to drive a total of 400 – 500 nozzles divided into two zones, covering approximately 8 to 10 acres.